Last week we crawled out from under our precious rock to join a Vegan potluck just down the road in Skerries Harbour!  One of the things we brought was a big bowl of Whole Wheat Fusilli, Olives, and Cherry Tomatoes covered in a fresh batch of pesto.
It was great meeting a group of nearby like-minded individuals, and getting to sample everyone's creations.
There was a request for my pesto recipe so I thought I would share it here!
I always prefer to make my own.  It's so fast and easy to throw together, and it tastes much better from fresh ingredients than it does from the jar.  It also gives you complete control, and there are a lot of different directions you can go with a pesto.
Of course a traditional pesto is made with Basil Leaves and Pine Nuts … and it's absolutely beautiful, I can't fault it!  But if you want to be creative, you can use any green or combination of greens plus any nut you prefer in place of the pine nuts.
So many flavour possibilities!
When I don't have pine nuts or mountains of basil on hand I often make this Rocket and Walnut variation.  Just make sure when you are using 100% Rocket that the leaves are young and fresh…  if they are on the bitter side I'd suggest using 50/50 with Basil, Spinach or another mild green.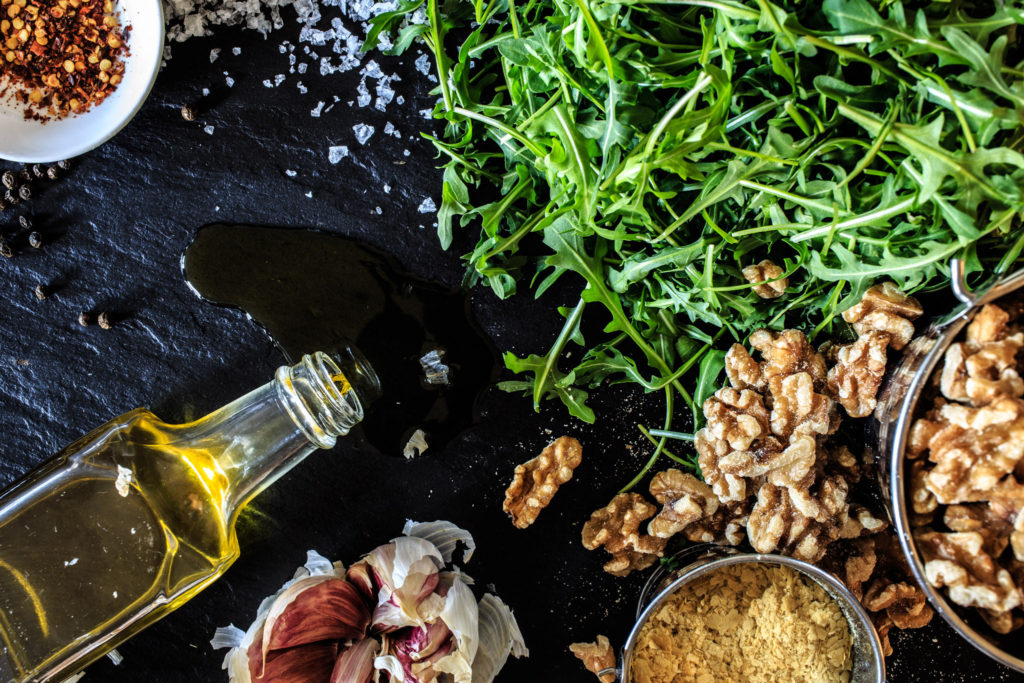 Rocket & Walnut Pesto
Servings: 300 ml
Difficulty: easy peasy
Ingredients
110g Rocket, washed
25g Walnuts
4 Cloves of Garlic
5g Nutritional Yeast (optional)
1/2 teaspoon Salt
1/8 teaspoon Black Pepper
pinch of Red Pepper Flakes
Directions
Blend all ingredients thoroughly in a blender until smooth.
This recipe is ridiculously easy.  The only key here is having a good blender.
Blending cruciferous vegetables such as rocket is an excellent method for producing a little known compound called sulforaphane. Sulforaphane is natures most powerful activator of the NRF2 pathway. The NRF2 pathway reduces inflammation and improves antioxidant function, as such this complex interaction of genes and enzymes is essential in ensuring the body is protected against all forms of disease and age-related decline. To get the best health benefits out of your pesto if you are heating it, ensure you let the blended mix sit for 40 minutes before cooking; this will allow sufficient time for sulforaphane activation.