Australia has been our "Nation of the Month" for the month of July and we have been enjoying delving mouth first into Vegan Australian Food. If you're not Vegan, don't let the V word scare you off just yet, because this Vegan Chiko Roll Recipe is good eats for all. Hey, maybe you're just an average Joe struggling to get your five a day, and maybe, just maybe, occasionally covering them in bread and frying them is your last best hope of eating your veggies?
Australia Month
My one worry when we landed on Australia was that we would have a difficult time culturally and (more so) culinarily distinguishing Australia from it's Kiwi cousin. New Zealand which was our first ever Nation of the Month, and we had a blast with it, but all the while we were aware that there was a significant overlap in modern cuisine. A large grey area of foods that are widely consumed in both countries, and in some cases the subject of heated dispute over who exactly deserves credit (*cough, cough* Pavlova).
Of course, as we discovered, there was no need to worry. Australia has every bit of culture, history, and food that you might expect from such a vast nation. In fact, I know we've only scratched the surface.
It did help that I had a lifeline: I sent an SOS to my "token Aussie mate", Emily, and she sent us a pretty comprehensive starting point for both culture and food. (Don't expect to see a recipe appear for every dish though. I mean, turns out I like Fairy Bread as much as the next guy, but I don't think you need a recipe for it.)
Australian Music
We don't talk about it much on the blog, but Nation of the Month is about more than just food. Australia month in particular has had a massive effect on the music we are listening to. Certain Aussie artists were already in high rotation (think AC/DC), but youtube playlists and Emily's recommendations have unlocked some real gems we may have otherwise never uncovered. And now I invite you to listen along to the marvel that is Dan Sultan, but be warned, your precious ear holes may never be the same.
I don't think it ever leaves your head, it just gets quieter sometimes.-S
Australian Cuisine
The Aussie assistance didn't end there. Luckily Australia has a lot of vegans, and as a result you can already find plant based recipes for just about every one of the nation's favourite dishes! We made Ania's Vegan Anzac Biscuits and Amrita's Vegan Lammingtons. There were Tim Tams and Pavlova, too. Okay… we may have overindulged our sweet tooth this month. Let's get some veg into us.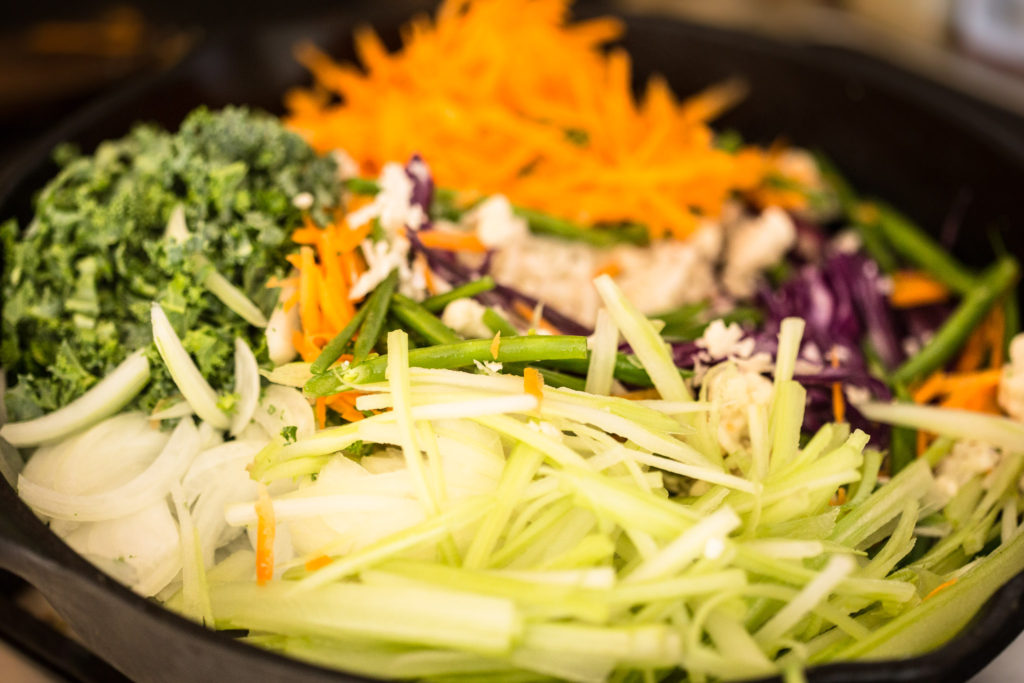 Finally, they made a spring roll big enough for my needs.-S
Modern Australia is a melting pot of many different cultures, and almost all of the dishes we have tried this month have a clear crumbtrail leading to the culture that inspired them. Chiko Rolls are basically jumbo sized Chinese Spring Rolls with a splash of Aussie fusion.
And we are loving them!
Vegan Chiko Rolls
Servings: 8
Difficulty: average
Ingredients
Filling
1 Onion
25g Cabbage
35g Kale
50g Cauliflower
50g Green Beans
80g Celery
100g Carrot
1 Tablespoon Rice Bran Oil (or other Vegetable Oil)
1/2 teaspoon Ground Ginger
1/2 teaspoon Black Pepper
1 teaspoon Curry Powder
1 Vegan Stock Cube
150g Cooked Green Lentils
200g Cooked Brown Rice
Pastry
475g Plain Flour
1 teaspoon Salt
300ml Water
For Frying
Rice Bran Oil (or other Vegetable Oil)
Directions
For the filling: Grate the Carrots and finely julienne the rest of the Vegetables.
Place Oil in a skillet over high heat. Add Vegetables and sauté for 5-10 minutes.
Add the Stock Cube, Spices, Lentils, and Rice and remove from heat.
For the pastry: Mix Flour and Salt in a medium bowl. Make a well in the center, add the Water and gradually mix in and knead the dough until it forms a smooth ball. Set aside to rest for 5 minutes.
Divide the dough into 8 parts. Roll each piece of dough into a long rectangle. Add 1/8th of the filling lengthwise along the dough, fold over the short edges, sealing with a little bit of water. Wet the long edge of the pastry and roll to seal.
Cooking: The shallow fry method works very well for these. Heat about 1 cm of oil in a large skillet. Add a Chiko Roll seal-down to the hot oil (make sure you have a pair of tongs close at hand). Cook for 1-2 minutes each side until golden. You should be able to cook 2-3 at a time. Keep the cooked Chiko Rolls hot and crispy by placing them on a wire rack in an oven set to 100 degrees celsius while the rest of the batch cooks. Serve hot!