Valentine's Day Dinner is different every year in our house. We have a few little traditions (chocolate, roses and wine always come into play), but dinner itself is something new every year. I do always try my best to make dinner a special production to mark the occasion… I like to plan out something special, something we haven't eaten for a long time (or, in the case of Pastilla, ever before), something rich and indulgent, usually splurging on a few "premium" ingredients that we wouldn't consider indulging ourselves in on a normal weekly shop. And in the true cheesy spirit of the holiday, where possible, I try to incorporate the colours red or pink, and the ever cliché heart-shape that you see just about everywhere on February 14th.
This year is going to be different. For one thing, I have clearly and definitively lost the element of surprise. (A price I was happy to pay in the hopes that I might get the recipe up early enough to help anyone else who is looking for a special Vegan Valentine's Day dish.) Secondly, I'm not even going to be home for the day this year! As I write, Sand I are trying to figure out exactly when we are going to celebrate "Valentine's Day Observed" in lieu of the 14th.
Considering I don't yet know the when it's just as well I know the what…
Enter Vegan Pastilla
A Pastilla (also spelled Bastilla) is a type of pie originating from Morocco, where it is very popular. It's an indulgent mix of sweet, savoury, and spices, wrapped in layers of crisp paper-thin pastry. Pastillas are almost exclusively made using chicken, and egg. Since the very first time I was set upon the task of preparing Pastilla I thought to myself:
How could I make this Vegan?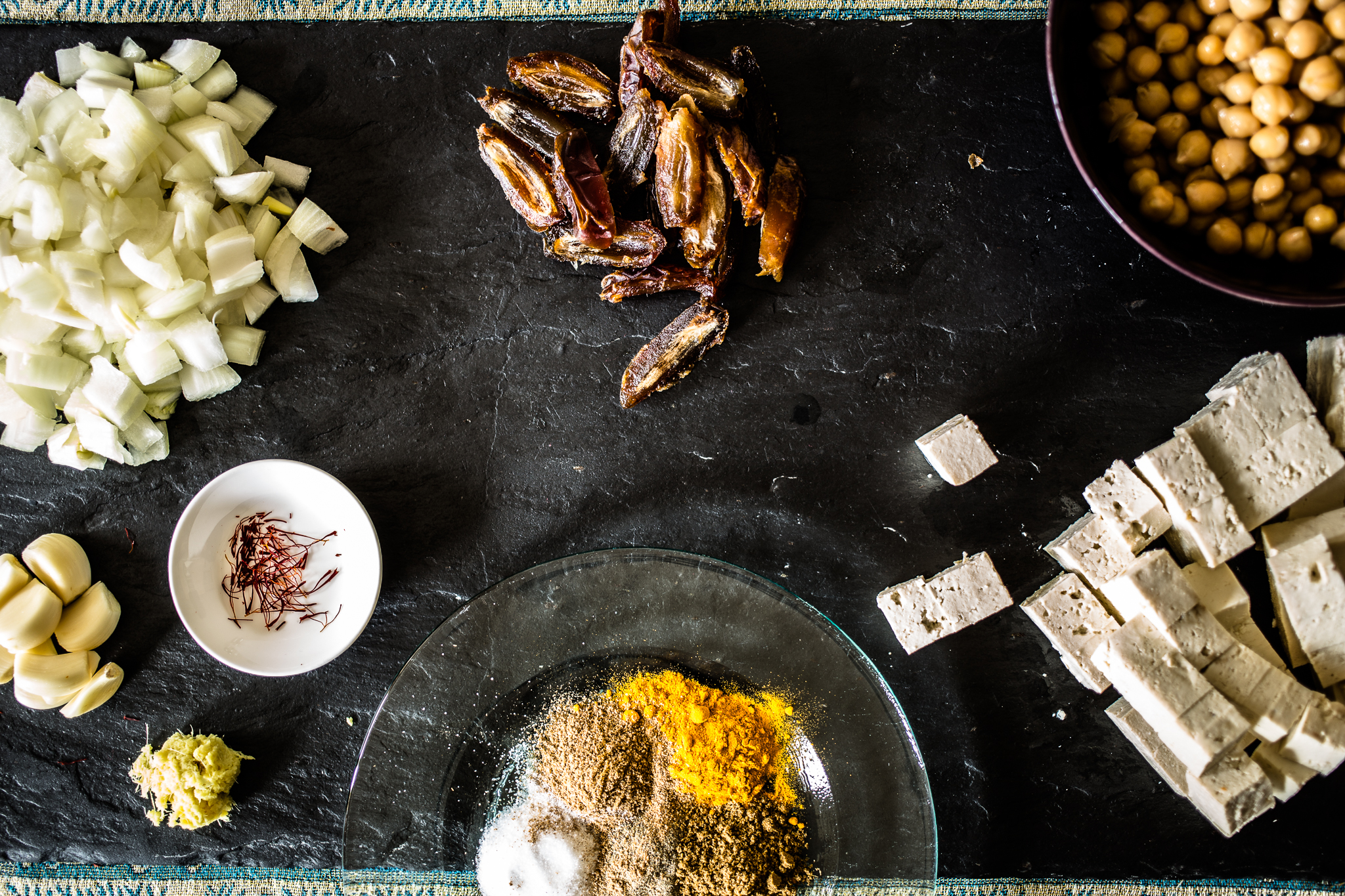 Easily! Looking at the flavours and textures going into this dish, it occurred to me that Chickpeas and Tofu together would serve as the perfect anchor to Veganised Pastilla. Now, the dish is not inherently romantic, and doesn't have any connection to Valentine's Day (or at least it didn't up until now) so you might be wondering what wild thought process got me from A to B. Which brings us back to cheesy exhibit A. Quite simply, the questions I asked myself were "What is something I have never made forS, that's special enough to feature as a main marking the occasion, that I could make heart shaped?"
A Pastilla is usually made in Morocco by layering sheets of Pastry (usually Warka, but we will use the very similar and widely available Phyllo) and Filling in a pie dish. But they can also be made free-form, and that's how I've made them before. So I found myself wondering; could I wrap heart-shaped, individually portioned Pastillas freehand? It turned out easier than I had hoped! Now, phyllo can sometimes be difficult to work with even on the best of days (read: when you're not trying to force it to be a heart-shaped parcel), and that's the one and only reason I've marked the following recipe's difficulty as "Above Average". But, don't be scared. If you want a Heart-Shaped Pastilla, then give this method a try. I've included photos below to illustrate exactly how I wrapped the filling. If you don't care about the shape, by all means you can fold them over in a traditional circle, or if you have a dish you'd like to use, that will work too, even easier still.
Now, you'll notice this recipe yields 7 individual Pastillas, and there's a good reason for that. For those of you in Ireland (or presumably the UK) if your nearest grocer sells Phyllo Dough, it's almost certainly in a box of 7 sheets. For the simple reason that Jus Rol dominates the market when it comes to premade Phyllo Pastry, and 7 sheets is what they put in their box. So, I wrote the recipe to produce exactly enough filling for 7 Pastillas. If you want to make a romantic Dinner or Two, and for some reason you don't want to frantically devour the remaining five Pastillas crouched in a dark closet when your date is distracted: Then I'd suggest simply making 1/4 of the recipe below, and using the remaining five sheets of Phyllo to make any number of delicious desserts for afterwards!

Vegan Tofu & Chickpea Pastilla
Servings: 7
Difficulty: Above Average
Ingredients
2 Tablespoon Coconut Oil
2 Brown Onions, diced
1 Head of Garlic, peeled
1 inch Fresh Ginger, Grated
pinch of Saffron
1 teaspoon Salt
1 teaspoon Pepper
1 teaspoon Turmeric
1 teaspoon Cumin
1 teaspoon Ground Coriander
5 Medjool Dates, pits removed and quartered
1 pack Tofu, drained and diced
1 tin Chickpeas, drained
250ml cup Vegetable Stock
100g Almonds, sliced
1 teaspoon Cinnamon
zest of 1 Orange
1 Tablespoon Agave Syrup
1 bunch Fresh Coriander
7 Sheets of Phyllo Pastry
Directions
If you're using Phyllo Pastry from the freezer, do move it into the refrigerator the day before you start this recipe to gently defrost.
Melt the Coconut Oil in a large saucepan. Add the Onions, peeled cloves of Garlic, Ginger and Saffron. Sauté for 5 minutes.
Next add the Spices, Dates, Tofu, Chickpeas and Stock. Cover, and simmer over a low-medium heat for 25 minutes.
Meanwhile, roast the Almonds for about 5 minutes at 175 degrees celsius. Transfer them to a bowl, and coat them in Cinnamon, Orange Zest, and Agave.
When the 25 minutes is up, remove the lid and gently stir with a wooden spoon to deglaze any ingredients that have started to stick to the bottom of the skillet.
Remove the Phyllo from the fridge and allow to sit at room temperature for 15 minutes.
Meanwhile, wash and chop the Coriander. When the 15 minutes is up, the filling should be cool enough to work with. Add the fresh Coriander and stir to combine.
Lay your Phyllo sheets out flat on your work surface. Working quickly, place a scant cup of filling in a heart shape off to one side (as shown below). Fold the pastry around the heart, doing your best to preserve it's shape. When you have made it about half way across the pastry, spoon some of the sweet roasted Almonds as a top layer over the Pastilla. Continue wrapping, taking care to completely cover the almond layer. Brush some water around the sealing edges and gently remind your Pastillas that you would like them to please kindly have a certain cheesy romantic shape.
When they are all ready, place them on baking sheets lined with parchment, and bake at 200 degrees for 25 minutes (or until golden).
If you'd like, brush each sheet of Phyllo with just a bit of Extra Virgin Olive Oil before you fold it into a parcel. This would increase the flakiness and tastiness of the recipe. (The only reason I didn't do it is because we are trying to be a bit healthier by reducing the added fats in our diet)
In our Valentine's-Day-Preview-Dinner I served our Vegan Pastillas with blanched Asparagus and Broccoli with a Balsamic Chilli Reduction, and Pink "Valentine's Day" Mashed Potatoes which all turned out to be a pretty tasty combination.
I love you, Suzanne
Sorry,                               but a
Valentine's                    Day themed
post (on blog created       and ran by a married
couple) wouldn't be the same if I didn't say it.  And
I say it from the phyllo bottom of my sweet-and-spiced-
tofu-and-date-stuffed-heart. Thank you for being the best
Friend, Partner, Wife, and Mother of my Children I could
have ever dreamt of. I hope I can succeed in bringing you
happiness on our "Valentine's Day Observed", on real
Valentine's Day, and on every day inbetween
and thereafter.   I love you heart
& soul and I'm not afraid to
say it in front of both
of the people who
follow our blog
the whole
world.
♥