Continuing our culinary exploration of Turkmenistan, our Nation of the Month for January 2018 we are going to take another national favourite and show how we made it entirely plant-based!
In the last Turkmen recipe I posted (Ichlekli) I mentioned that it is considered by some to be the National Dish of Turkmenistan. If someone doesn't consider the National Dish to be Ichlekli, it's almost certainly because they consider Palaw to be the National Dish!
In Turkmen cuisine you will also come across this dish under the Russian word "Plov". Turkmenistan's neighbors to the North, Uzbekistan, have their own version and always call it Plov. While the dish is also popular with their Southern neighbours, Afghanistan, who also have different variations, and who always call the dish by the Dari word "Palaw". If you haven't guessed, it is all one and the same as the popular rice dish we call Pilaf (originated from the Farsi word for the dish). But I'm using the term they use in Turkmenistan on this recipe, because it is definitely distinct and different to any pilaf I ever made…
Early in my Cheffing career (15 years ago and 4,500 miles away) I was advised "It's not Pilaf unless is cooked in an oven" by a senior Chef and self-professed pilaf purist.
Palaw is definitely not cooked in the oven. I find it very interesting to see (and taste!) the different global variations of the dish.
One of the commonly recurring themes I've seen in most Turkmen recipes is that they call for much less spices and herbs than I am used to using. I read that this is because spices in Turkmenistan are hard to come by (or at least, were) and this left it's influence on the nations recipes. One of the main components used to infuse flavour into food in Turkmenistan is their go-to cooking oil, Cottonseed Oil. And traditional Turkmen Palaw uses Cottonseed Oil by the bucket load.
Prepare yourselves for another break from tradition.
[row cols_nr="2″][col size="5″]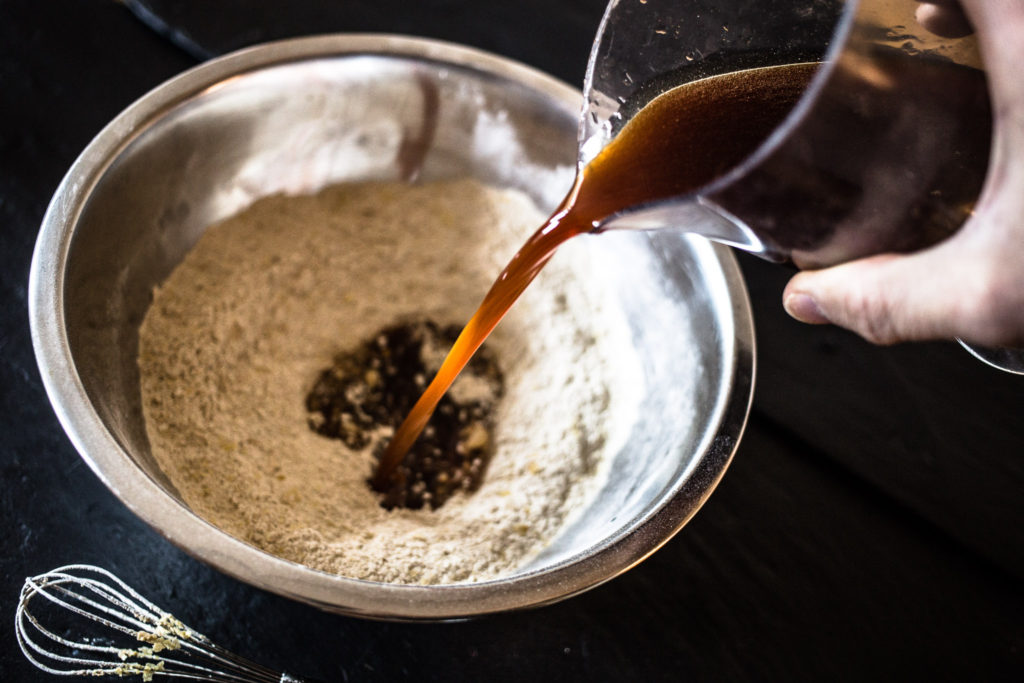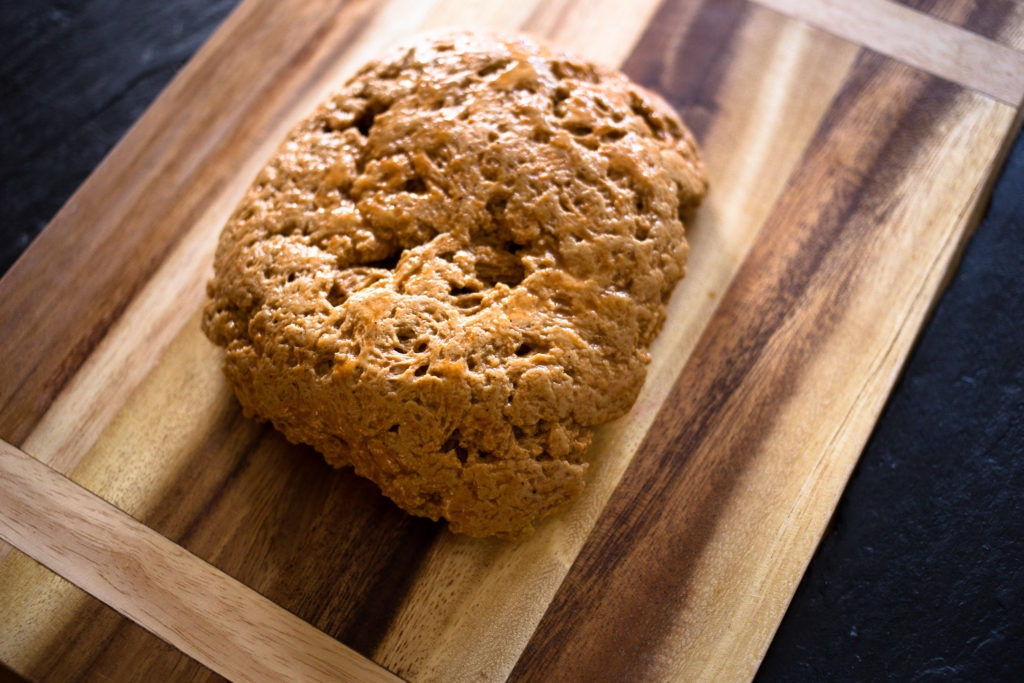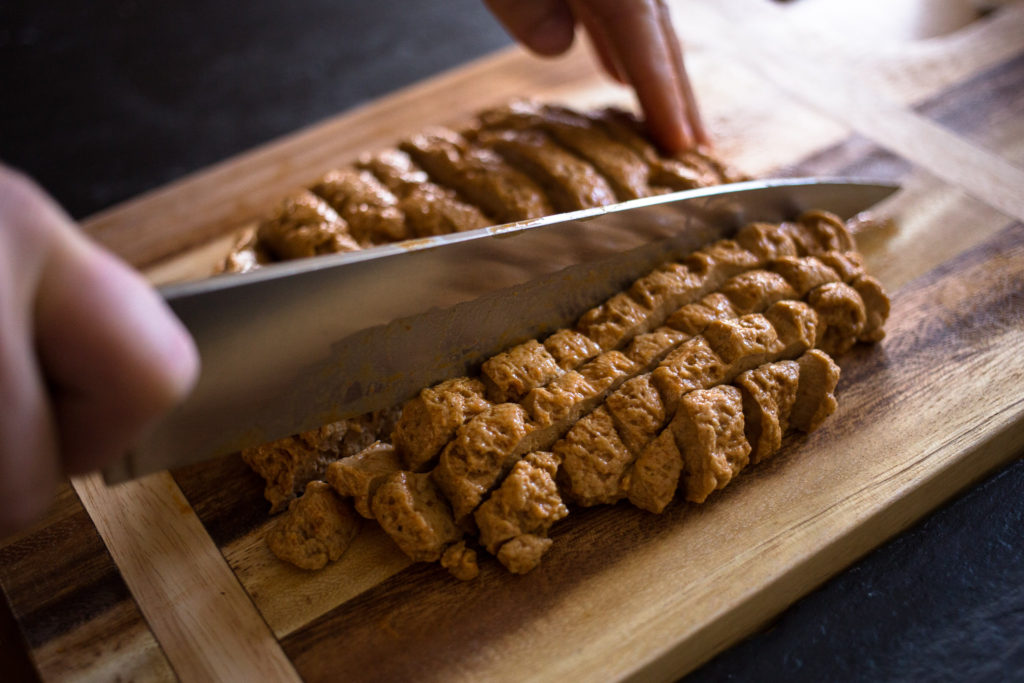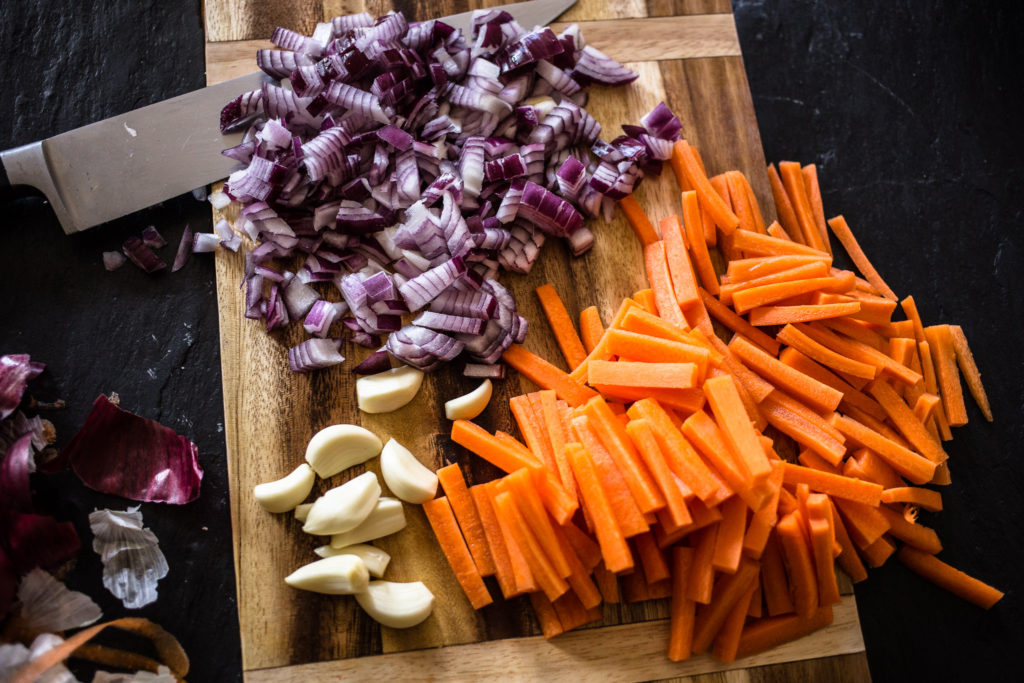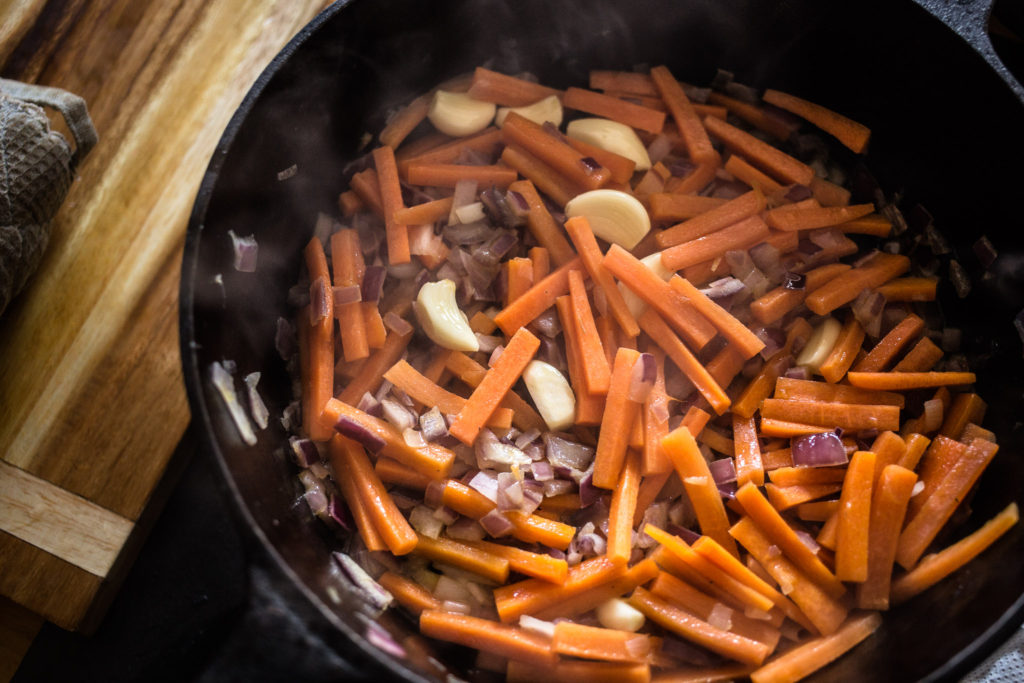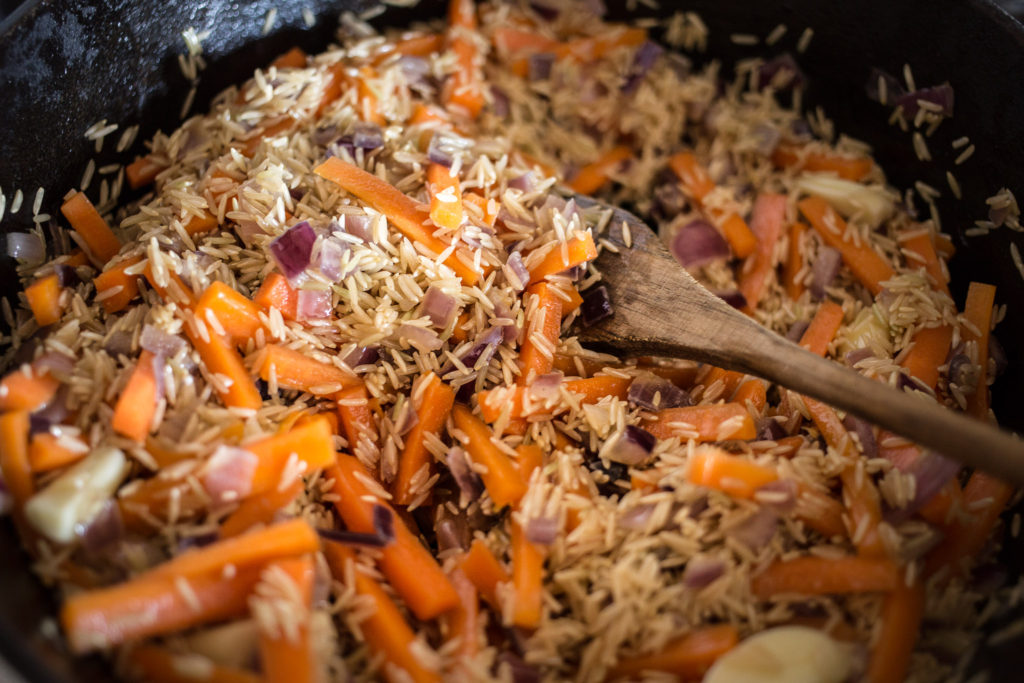 [/col][col size="7″]
What I've created here is a recipe heavily based off the traditional Turkmen Palaw or Plov recipes. I borrowed as much as I could from ingredients to preparation. I think, and I hope, that I have managed to create a Palaw recipe that honours Turkmenistan, and closely mimics what you will find on Turkmen plates, but one that is a lot healthier.
I've actually never even tasted Cottonseed Oil. In Turkmenistan it dominates the culinary oil market. But it's not something that's readily available here… And that's probably for the better. Bon Appetit have named it one of the world's 3 most unhealthy oils, because of it's high ratio of saturated fats and potential to be tainted with pesticides. 1 Instead I used Rice Bran Oil, which has a good balance of Monounsaturated and Polyunsaturated fats, and significantly fewer Saturated fats. Not only did I use a healthier oil, I used far less of it.
I also eliminated the other major source of Saturated fat in the usual recipes by replacing the usual cut of meat with a fresh homemade Seitan!
Seitan is a versatile, extremely protein-dense food that is very easy to make at home from scratch. When you make Seitan at home, you are usually leftover with a by-product: the Stock. The stock becomes very rich and flavour-infused but most Seitan recipes at best include a line of instruction suggesting you put it away to use for something else another day. This recipe is different. I designed it from the start to be one unified process. It is a two-pot dish, but the recipe calls for all of the Seitan and all of the Stock at exactly the same time. There's something so satisfying about just pouring the whole pot of Seitan and Stock into the rice and just walking away.
Ah, some things were just meant to work out.
[/col][/row]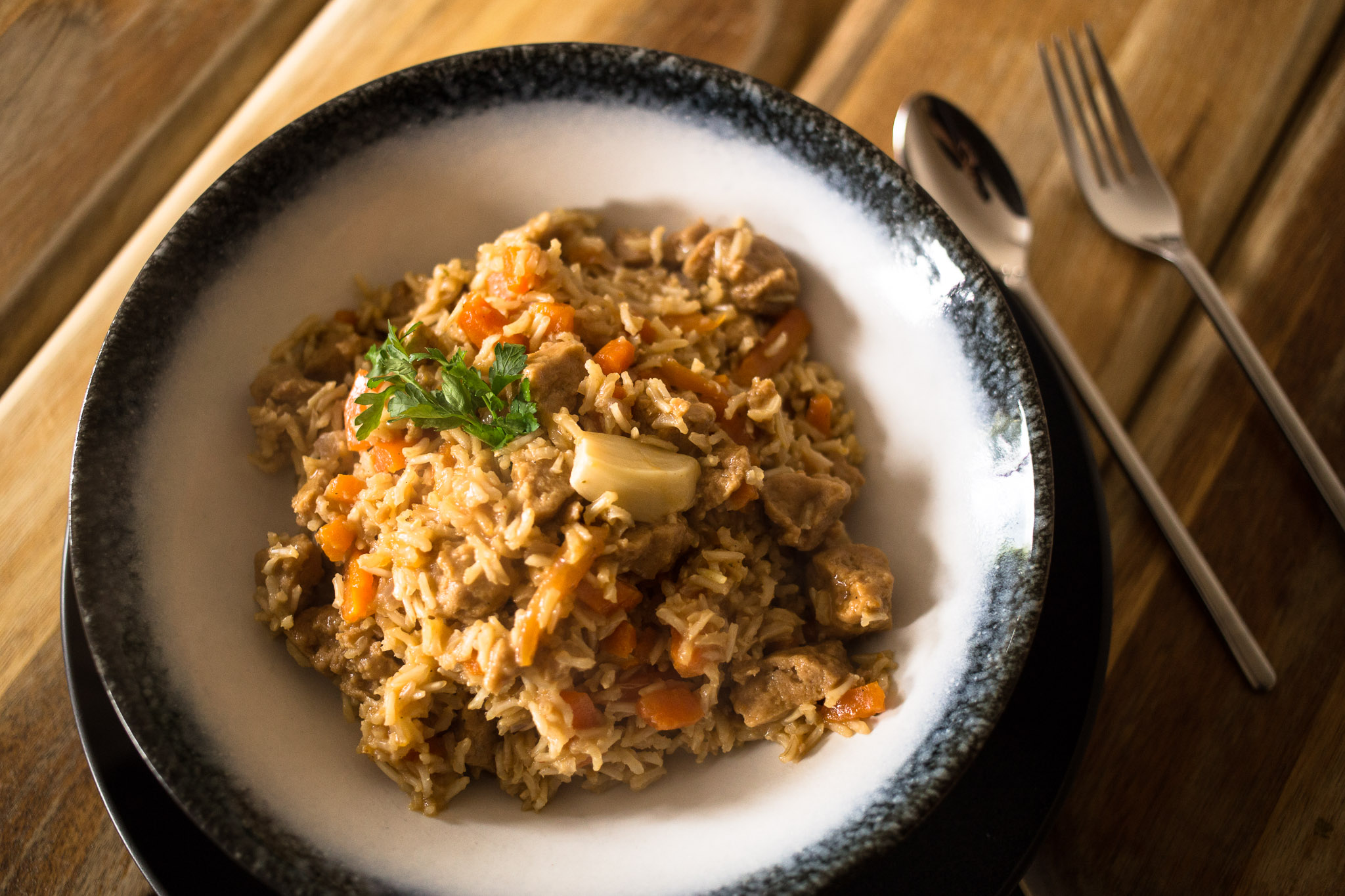 Seitan Palaw
Servings: 8
Difficulty: average
Ingredients
Seitan
220g Vital Wheat Gluten
30g Nutritional Yeast
1 teaspoon Onion Powder
1 teaspoon Garlic Powder
1/2 teaspoon Smoked Paprika
1/4 teaspoon Black Pepper
200ml Water
2 Tablespoons Liquid Aminos (or Soy Sauce)
1 Tablespoon Tomato Paste
1 Tablespoon Olive Oil
1 teaspoon Worcestershire Sauce
Stock
Palaw
1 Head of Garlic, peeled
3 Carrots, peeled and julienned
2 Onions, finely diced
2 Tablespoons Rice Bran Oil
500g Whole Grain Basmati, rinsed
1 teaspoon Salt
Directions
To prepare the Seitan, mix together the dry ingredients in one bowl. Add the wet ingredients and knead together or whiz together in a food processor. Form the dough into a loaf shape. (If you are having trouble getting it to stick together in one piece just let it rest 5-10 minutes to relax the gluten, then knead it again. You can repeat this until you're happy that you have one piece which you'll be able to cut into cubes.) Move the dough to a cutting board and dice into small cubes (keep in mind the Seitan will roughly double in volume as it cooks).
Heat the vegetable stock in a medium saucepan. Add the Seitan to the water, separating the pieces as you drop them in. Set a timer for 25 minutes, and start prepping your vegetables while it counts down.
Separate and peel the cloves of Garlic, peel and julienne the Carrots in lengths of about 5 cm, dice the Onions fine.
When the timer goes off, heat the Oil in a very large pot. Add the vegetables and sauté, stirring frequently for 5-10 minutes. Add the Salt and Rice and continue to cook over high heat, stirring constantly, for a few minutes (this will give the rice an extra nutty flavour).
Pour the Stock and Seitan into the Rice mixture, and stir everything to combine. Cover the pot with a firm fitting heavy lid, and cook for 40 minutes, stirring once half-way.