We were all excited when the world stopped spinning. "We" being myself, S, and our daughters. "The world" being the wee digitised cartographic representation of itself we know and love as Google Earth. I'm talking of course of our household tradition "Nation of the Month". It was a victorious moment indeed when we landed on China. Finally, we made it to the Far East! After celebrating and culinarily exploring every other continent of the globe, we arrived somewhere very different.
"Chinese food all month long!"
We love Vegan Chinese Food! It's definitely one of our strong favourites. Granted, we have decidedly differents takes on Chinese food in Ireland and America, and they're both thousands of miles (literally) away from genuine traditional Chinese cuisine.
Westernised Dishes
When I was a kid every Chinese restaurant meant the same thing: Sweet and Sour followed by a Fortune Cookie. Good luck finding that in China. America has it's "staple Chinese dishes" that are found in every single Chinese restaurant across the 50 states. Very few of them are in any way authentic. It was very interesting to see when I moved to Ireland that just as there is "American Chinese Food" that is generally accepted in America as being Chinese Food, Ireland has "Irish Chinese Food" generally accepted by the Irish as being Chinese Food. The same dishes across every Chinese restaurant in Ireland. But go into a Chinese restaurant in the US or China and order a "3 in 1" you are bound to get nothing but strange looks.
I say that without the least bit of judgement for America or Ireland. I just find the food history and evolution very interesting! And enjoy the little culinary quirks that result in different places. But, truth be told, I love all the above! As long as they're veggie, I'm happy.
Authentic Chinese Food
I wanted to offer a recipe or idea that was outside of the normal rotation of Chinese dishes we are all used to. Preferably something genuine and authentic to the country, since that's what "Nation of the Month" is all about after all. Unfortunately, I have never been to China and am in no way experienced or learned in it's true cuisine (though I am making a pointed effort to learn more this month)!
But, I was lucky enough to have been the invited dinner guest of someone who is an expert, on a couple of occasions! A Chinese immigrant who spent the better portion of her life in her native country. She seemed excited to show me authentic Chinese cuisine, but she considerately removed all animal ingredients from the dishes for my sake… and I got the distinct impression there were a number of first-time substitutions she had to make as a means to that end.
Regardless, the food was delicious! And if you haven't guessed it by now, these Lettuce Wraps are my best attempt at a straight up reproduction.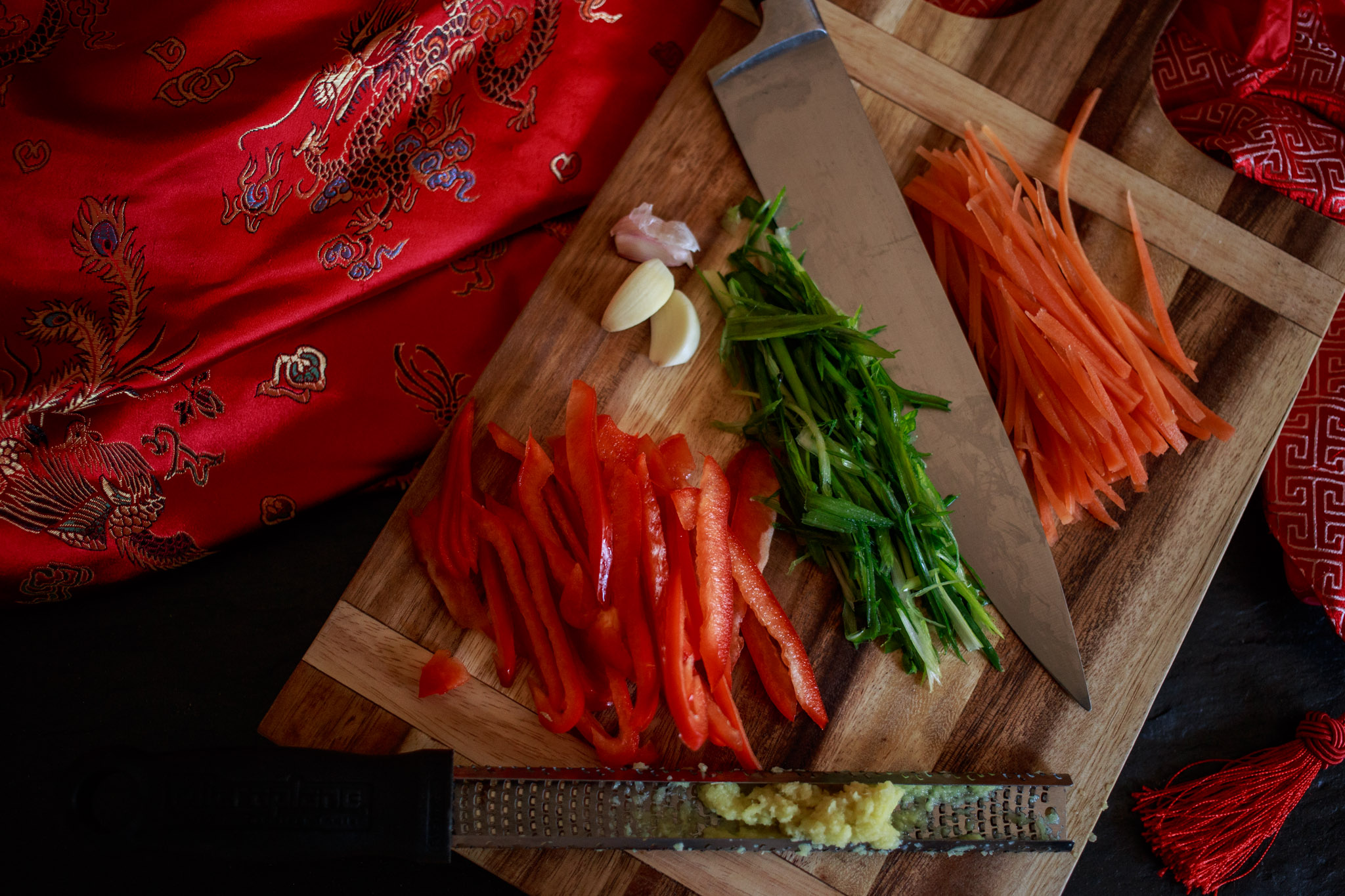 Lettuce Wraps
There are a lot of recipes for Vegan Chinese Lettuce Wraps out there, but this one is very different. All the ones I have seen are various replicas of a lettuce wrap made by a certain US restaurant chain. (Granted, they all look very tasty and I can't wait to try a couple of them out!) These ones are very light, with clean fresh flavours. Fresh vegetables, garlic and ginger added to rice noodles make up the filling.
They are simple and quick, good for a light snack or an appetiser. The best thing about them is the kids love them! It's rare that children will get excited when you hand them a wad of salad, but I make these from time to time in our house and they're always a hit with the girls when I do. Although, I have to admit, that is probably due in no small part to the fact that I let the girls dip them in copious amounts of Hoisin Sauce.
Of course you could alternatively dip them in plain soy sauce, or really any sauce you want, or none at all!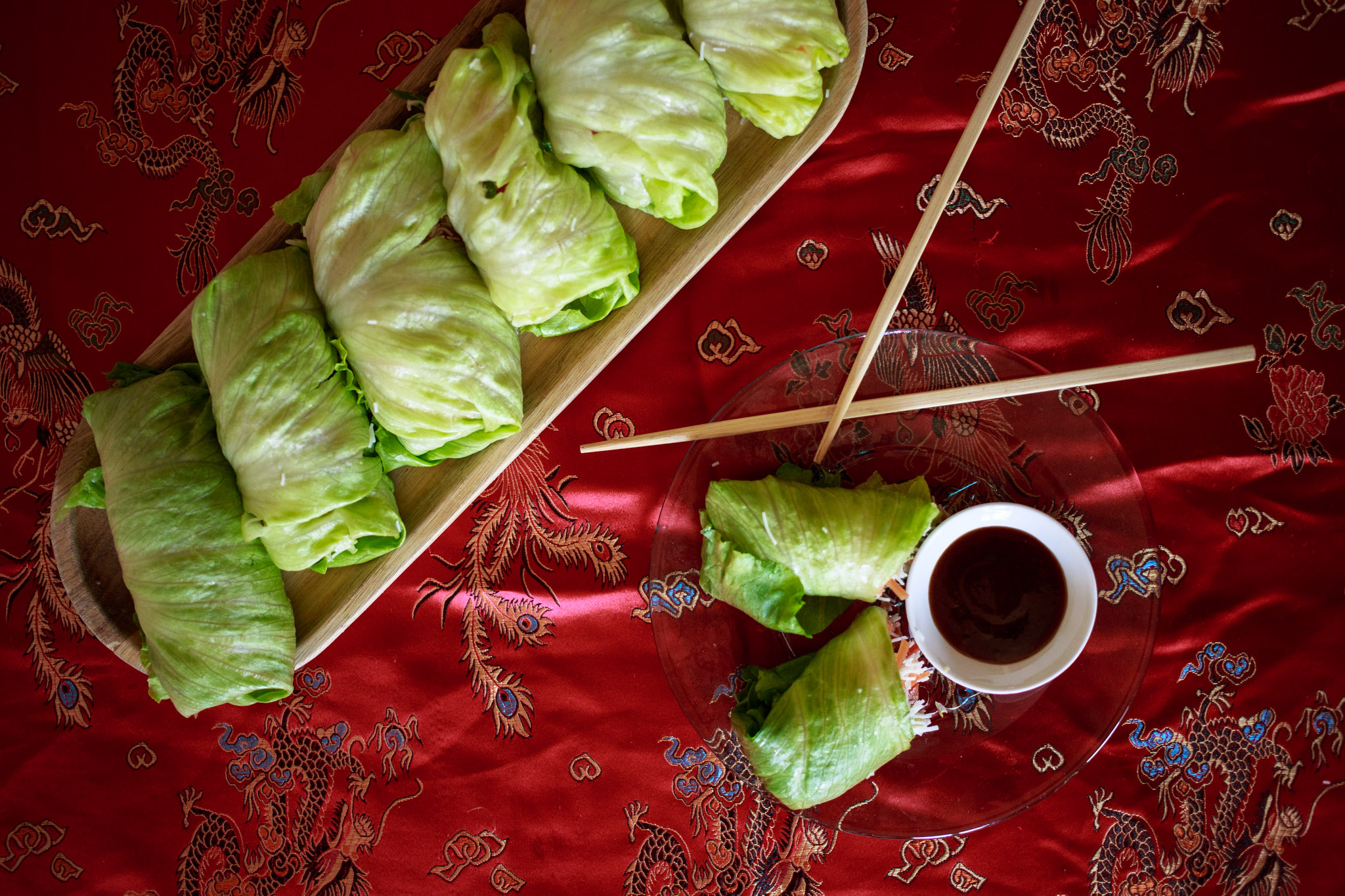 Lettuce Wraps
Servings: 4
Difficulty: Easy Peasy Chinesy
Ingredients
2 Scallions
1 Carrot
1/2 Red Pepper
20g Fresh Ginger, Minced
3 Cloves Garlic, Minced
300g Cooked Rice Noodles
8 Iceberg Lettuce Leaves
Directions
Slice Scallions, Carrots and Peppers into very small very long strips.
Mince your Ginger and Garlic (or grate them through a Microplane!).
Add the vegetables and spices to the cooked Rice Noodles.
Wash and dry the largest 8 leaves from a head of Iceberg Lettuce. Fill and roll each leaf as if it were a spring roll.
I've used Round Lettuce, Chinese Leaf, and Baby Gem, but Iceberg works much better than any of the above simply because the leaves are much bigger and more flexible when it comes to the necessary folds. Baby Gem works okay if you serve them open. (Think Taco as opposed to Burrito)