Nothing, in my opinion, screams indulgent breakfast pastry quite like the beloved Cinnamon Roll. They have been a favourite of mine since childhood!
Of course they are typically about as far away as you can get from a healthy balanced breakfast. So despite my warm affections for them I resist creating these temptations all but upon rare special occasions. And it just so happens March is a big month for special occasions in our house. You may have noticed the site being a tad quiet on the 'recipe front' the past few weeks, and it's no wonder. March is a busy procession of Birthdays, Holidays and Anniversaries. So much so, in fact, that for the first year in our marriage, S and I both completely forgot our own Wedding Anniversary.
A World Away…
It was late into the evening when I finally was made aware of my blunder. I was sitting by a small fire on a crude wooden stool in a densely packed forest, high in the Wicklow mountains… My brothers-and-sisters-in-arms scattered throughout the camp in a mix of boisterous recess and fatigued repose. Myself relaxing after the long day of marching, I was getting to know the two others with whom I shared the fire's warmth; one a Pagan Dancer, and the other a handsome Stallion by the name of Charlie. Gently lit by the giant glowing orb that shone as it levitated, swaying gently in the breeze amongst the tree tops overhead, mimicking moonlight. (More on that later…). I retrieved the thin communications device I had tucked inside my gaiter, and that's when I saw it. A message from the other side of the world, sent only moments prior. A shared facebook memory of Anniversary tidings from the same date three years prior. (Thanks, Mom.)
I'm always the one that remembers the dates. I usually start thinking weeks if not months ahead on how to most sentimentally and thoughtfully mark these special occasions. It was the first time I forgot. But it undoubtedly won't be the last.
I suppose it was just as well since fates had me spend the entire day in another world. Instead, we celebrate today! So as soon as S woke up this morning I asked her, if she could have anything in the world for breakfast, what would it be. She had to think about it, but the answer was Cinnamon Rolls.
We've been thinking about Cinnamon Rolls a lot this month. And no, it's not because of any one of the special occasions that falls in March, it's because of Nation of the Month. Once again we spun the globe on the 1st of the month, and this time it landed on Sweden!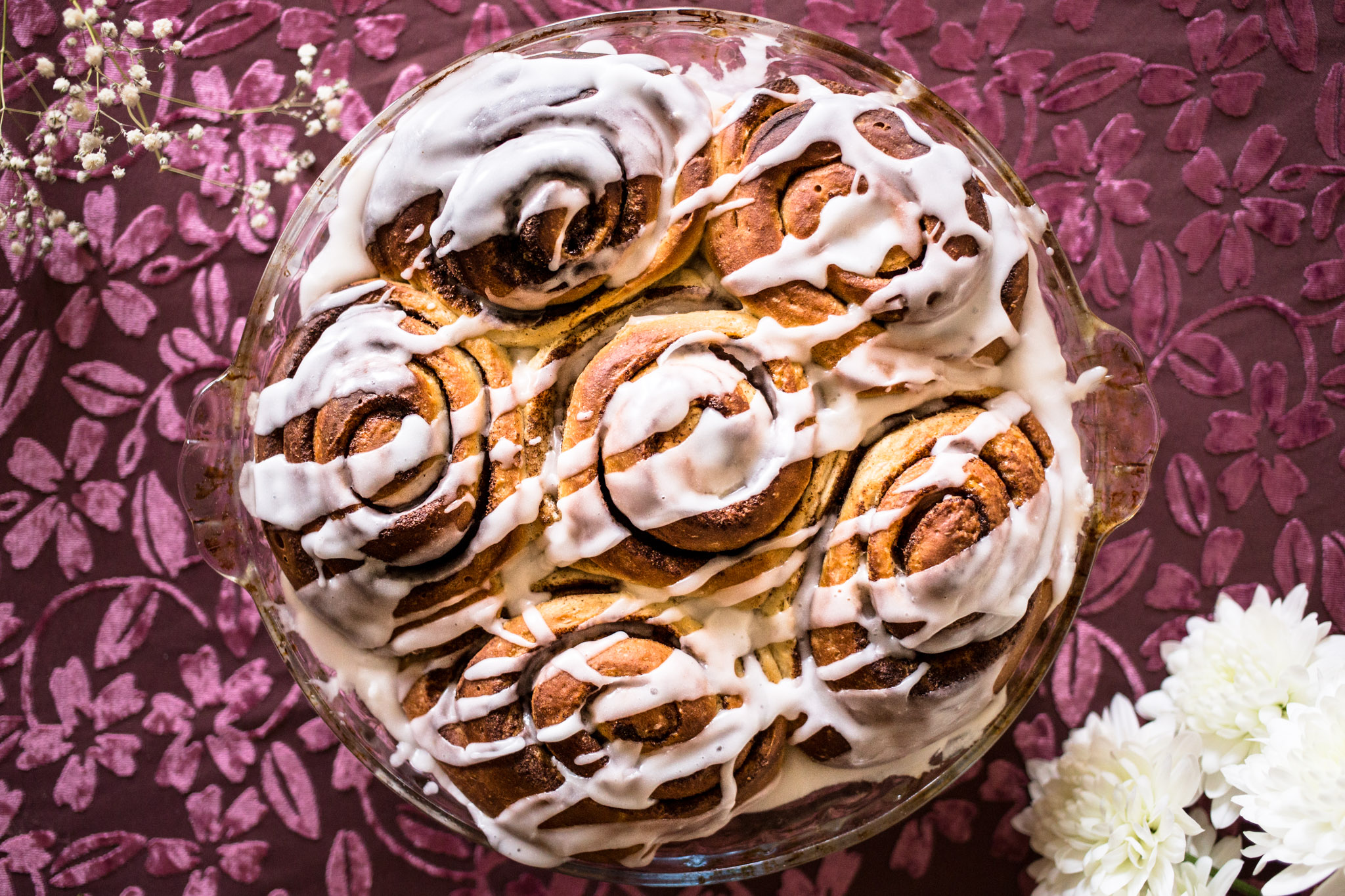 Swedish Cinnamon Rolls
Worldwide, I would guess when people hear Swedish Cuisine, the same three things are amongst the very first things to come to mind: Swedish Meatballs, Lingonberry Jam, and of course, Cinnamon Rolls.
Sweden prides itself as being the creator of the iconic pastry! Beautiful spirals of sweet bread and cinnamon sugar… Who wouldn't be proud?! They have stayed outrageously popular, and word has it that the Swedes indulge in more Cinnamon Rolls (or should we say, "Kanelbullar") per capita than anyone else.
While I do hope this recipe honours Sweden in some way, I must admit this is not a traditional Swedish recipe. The dough of Swedish Cinnamon Rolls is infused with Cardamom, and they top them with Pearl Sugar rather than the Icings favoured across the Atlantic.
American Cinnamon Rolls
Meanwhile in America the Cinnamon Roll (or Cinnamon Bun, as they are sometimes called, which happens to be a literal translation of Kanelbullar) have had a slightly different evolution. Cardamom is uncommon, and the pastry itself is notably different.
Where the Swedish and Danish Cinnamon Rolls are much more of a crisp, airy pastry their American counterparts are more bread than pastry. The Cinnamon Rolls I grew up on are much taller, based more around the 'classic Americana' Dinner Roll than any true pastry.
One of the first recipes I ever wrote was my recipe for Vegan Cinnamon Rolls. It was back in 2003 or 2004… I was working in The Good Food Store in Missoula, Montana and I wanted to introduce a third Vegan option to the Bakery's offering. I made a trial batch and turned in the recipe, and the response was incredible, we started selling them straight away. It was not long after that I was promoted to Baker… Soon I was making them with a choice of glazes in both standard and mini versions. They have been a staple there ever since, and though many long years have passed since then, you can still grab one of my Vegan Cinnamon Rolls in Missoula any day of the week. (Along with several other Vegan treats ushered in under my tenure!)
If you've never tried a Cinnamon Roll… Just don't. Cinnamon Rolls & Meth: Not. Even. Once.
And now the recipe is yours! I have learned a bit over the years, and as a result the recipe has slightly evolved. Here is my most up to date recipe, using only ingredients found in your average Irish kitchen, and delivered in fancy pants metric format.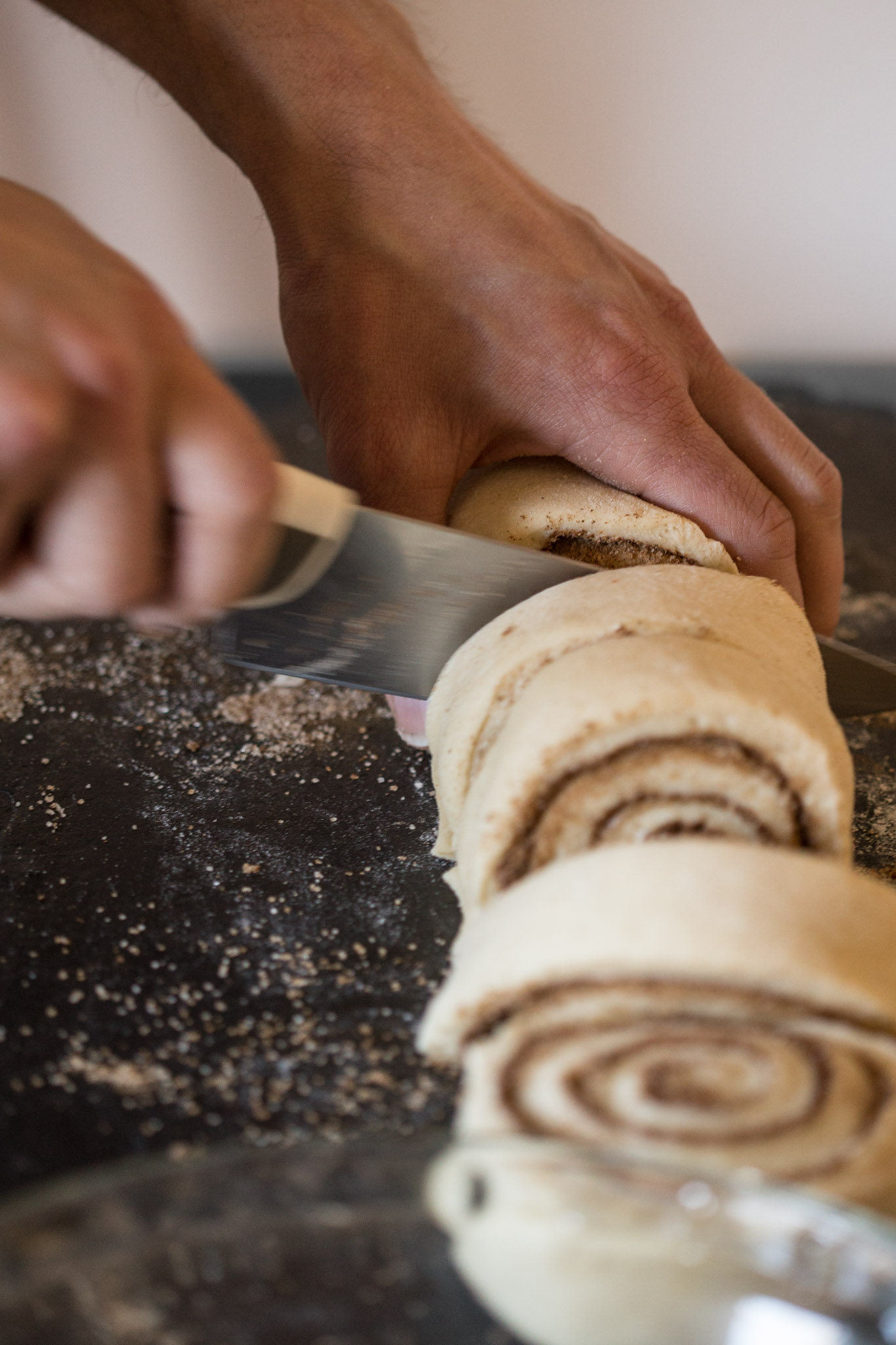 Good Things Come to Those Who Wait
The Morning After
Make no mistake, I know there's a lot of talk about 'pastry' and 'dessert', but this is a yeast bread recipe. And yeast bread, done properly, takes time. In other words, this is not something to stumble out of bed and scrape together for a quick breakfast.
In a warm kitchen, where the dough rises quicker, you would get a good result in about three hours. In our cool Irish kitchen, each rising cycle took two hours, making the whole process take just over five hours. Unless you are awake five hours before everyone else in your house, that's a tad inconvenient.
The Night Before
At home, I prefer the slow proof method. The evening before, follow steps 1-6, cover the Cinnamon Rolls well and simply leave them in your fridge. The next morning you're only 30 minutes away from sticky cinnamon jubilation. Preheat the oven, throw in your now beautifully risen rolls, and enjoy a nice cuppa while you wait.
This slideshow requires JavaScript.
Vegan Cinnamon Rolls
Servings: 12
Difficulty: average
Ingredients
Dough
100g Dairy-Free Spread
130g Caster Sugar
150ml Aquafaba
250ml Soy Milk
14g Fast Action Yeast
630g Plain Flour
15g Salt
Filling
75g Dairy-Free Spread
15g Cinnamon
100g Light Brown Sugar
Icing
300g Icing Sugar
40ml Water
Directions
Melt the spread in a small saucepan. Add the sugar and dissolve. Turn off the heat, add in the Aquafaba (it should be exactly one chickpea tin's worth) and the Soy Milk. The mixture should now be quite warm but not too hot. If it's too hot to touch, it will kill the Yeast. Add the Yeast to the warm liquid to dissolve.
Now it's time to knead in the dry ingredients. Use a mixer with a dough hook attachment, if you have one. (Otherwise grab a large bowl and prepare for a bit of an arm workout). Pour in the liquid mixture, add the Flour and Salt, and mix at a slow speed until combined. Increase the speed and knead until the dough has pulled away from the sides and bottom of the bowl and formed a smooth ball. It should still be slightly sticky to the touch.
Grease the bowl with a touch of vegetable oil, roll the dough over to coat, cover the bowl well and set in a warm place to rise until doubled in size. (This could take 1-2 hours depending on your yeast and the room temperature.)
Turn the dough out onto a dusted surface. Stretch into a large rectangle. Leaving 5 cm on one of the short sides of the rectangle untouched, cover the rest of the dough with the Dairy-Free Spread. Mix the Cinnamon and Sugar, and sprinkle over the Spread.
From the covered short edge, roll the dough all the way across. You can brush the uncovered end of the dough with a bit of water for a better seal. Move this loaf to a cutting board, and slice into 12 slices.
You will need a very large casserole dish to fit them all, otherwise, divide the Cinnamon Rolls between two casserole or pie dishes. Cover them and set them aside for their final rising cycle.
Keep an eye on them as the amount of time they need will vary highly depending on your yeast and the ambient temperature. This time of year our kitchen is cool and the second rising cycle, like the first, took two hours. In a warm kitchen with very happy yeast, this final proof could only take 30 minutes. (I suggest trying to overnight slow proof method I described above.)
Preheat the oven to 200 degrees celsius. Cook the Cinnamon Rolls for 25 minutes or until golden brown.
Sift the Icing Sugar into a bowl, and using a whisk, add just enough water to make a thick drizzling consistency. Cover the Cinnamon Rolls with the glaze and serve!
It's not important to use Fast-Action Yeast. In fact, the only reason I used it is because that is what's easiest to find here in Ireland. Active Dry Yeast will yield the same result, just make sure to activate the yeast first. If you're lucky enough to have Fresh Yeast on hand, use 28g instead of 14g.