What is in a name?  That which we call Chocolate Zucchini Bread by any other name would taste as sweet.
Of course back in America we do call them by the name Zucchini, from the Italian "Zucchino".  While on this side of the world everyone knows them by the French word, Courgette.  Of course that is only one of two misnomers in the title "Chocolate Zucchini Bread".  Bread has a more limited connotation here in Ireland and S was fast to beat out of me the habit of using the word to describe any of my American sweet Quick Breads.
"If you wouldn't make a sandwich with it, it's not bread."
I may not necessarily agree with that, but I will use lingo that my new compatriots understand!  The word Cake, on the other hand, encompasses a much wider variety of baked goods here than it does stateside.
So I knew well by the time I got around to making this for S to present it with my translated title "Chocolate Courgette Cake".  (One that still sounds odd to me.) S was horrified by the notion that I put a vegetable into a cake, especially one she was not very fond of. Once she tried it, she said it was (I kid you not) the best Chocolate Cake she had ever tasted!
So without further ado, here is my recipe for Vegan Chocolate Zucchini Bread, by another name:
Vegan Chocolate Courgette Cake
Servings: 8 Thick Slices
Difficulty: Easy Peasy
Ingredients
150g Plain Flour
30g Cacao
3/4 teaspoon Baking Powder
1/2 teaspoon Baking Soda
1/2 teaspoon Salt
1/2 teaspoon Cinnamon
1/8 teaspoon Cardamom Powder
50g Pecans (optional)
130g Demerara Sugar
1 Courgette, grated (about 220g)
60ml Rice Bran Oil
185g Soy Yoghurt
1 Tablespoon Vanilla Extract
1/4 teaspoon Almond Extract
100g Vegan Chocolate Chips
Directions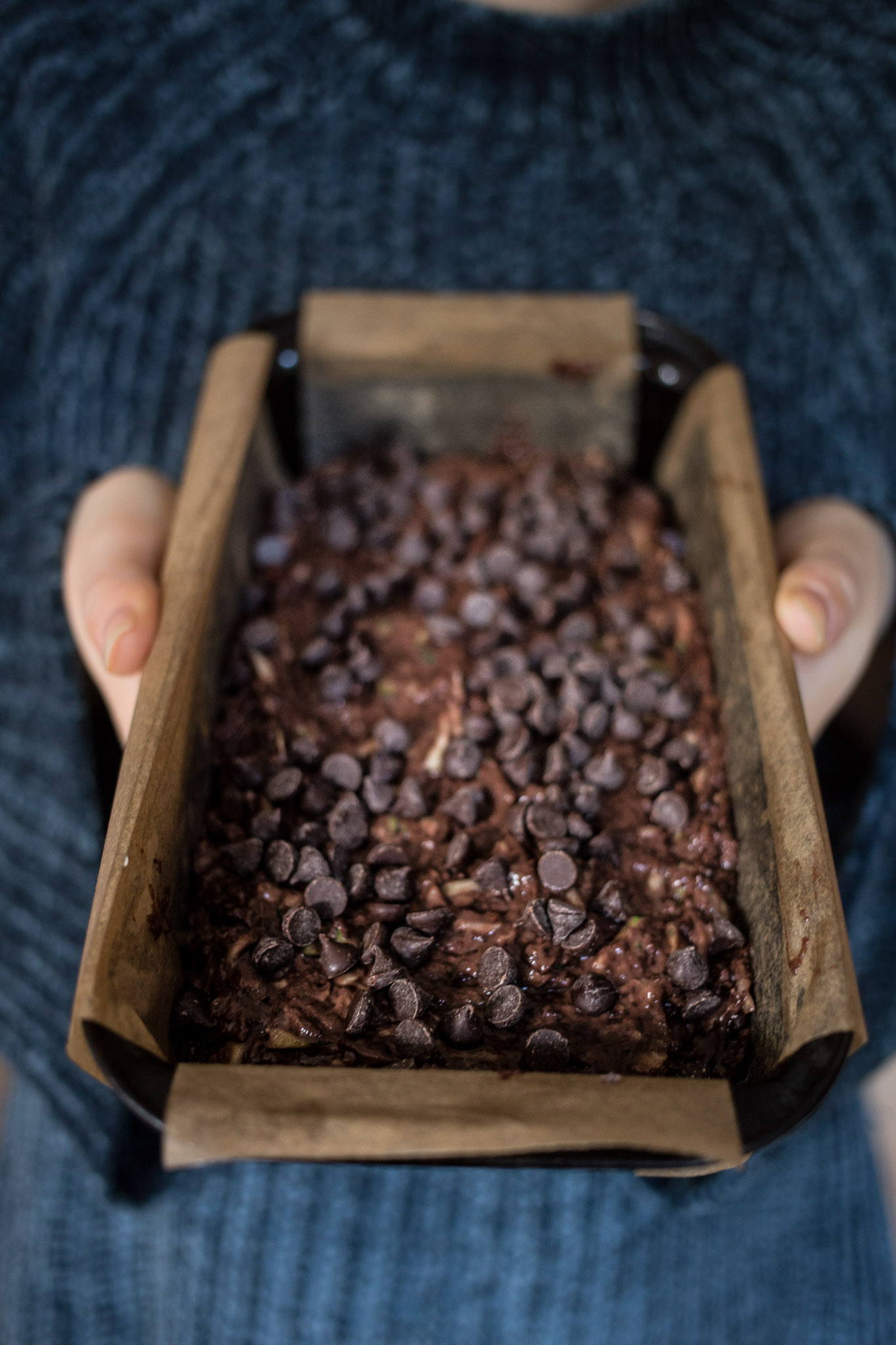 Sift together the Flour, Cacao, Baking Powder, Baking Soda, Salt, Cinnamon, and Cardamom.
Heat your oven to 175 degrees celsius. If you are using Pecans, go ahead and roast them in the oven for about five minutes (until they start to become fragrant) This will give them a far superior flavour and texture in the cake.
Wash and grate the Courgette. Add the Pecans, Sugar, Courgette, Oil, Yoghurt, Extracts, and about half of the Chocolate Chips to the dry mix. Fold together until well combined.
Bake in a bread tin lined with parchment paper for 40 minutes at 175 degrees. Turn the oven off and let the cake rest in the hot oven for another 5 minutes before you open the door.

If you have the patience, this cake is even better the next day. It is nice warm. But do try saving some for the next day, served chilled. Let us know which way you prefer!